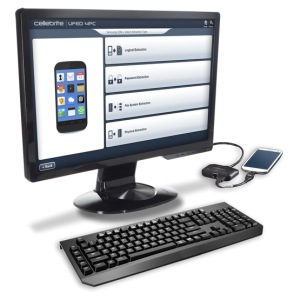 When speed and budget are just as mission-critical as mobile data itself, UFED 4PC extends Cellebrite's trusted UFED software technology to your PC or laptop platform. Whether for rapid tactical response in the field or in-depth forensic examinations in your lab, UFED 4PC's flexibility extends to meet your needs anywhere and any time.
Key features:
A comprehensive all-in-one software solution.
A Windows-compatible tool that easily adapts to a variety of workflows and environments.
Closed and self-contained environment for forensically sound extractions.
Simultaneous operations carried out at the same time.
Supports all data types.
Easily integrates with your customised work environment.
Unique evidence verification engine enables validation of recovered artefacts.
Frequent updates to ensure compatibility with new phones as they enter the market.
UFED 4PC is available with either an Ultimate or Logical solution offering and comes with a range of supporting applications for in-depth decoding, analysis and reporting.