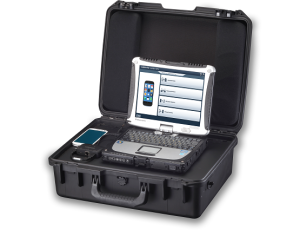 Purpose-designed for mobile forensic investigations in tough conditions, UFED TK delivers Cellebrite's trusted UFED technology pre-installed on one of three Panasonic® Tough platforms. UFED TK is built and certified to sustain harsh situations, whilst providing you with a streamlined workflow for mobile device investigations in extreme conditions.
Key features:
A rugged all-in-one mobile forensic solution.
A solution certified for drops, shocks, vibration, humidity, altitude, dust, temperature extremes and thermal shock.
On screen view of extraction and reports.
Outstanding battery life.
Trusted UFED technology provides all data extraction capabilities.
Unique evidence verification engine enables validation of recovered artefacts.
Frequent updates to ensure compatibility with the latest devices.
Custom boot loaders ensure forensically sound extractions.
Touch screen enabled and user-friendly UI.
UFED TK is available with either an Ultimate or Logical solution offering, and comes with a range of supporting applications for in-depth decoding, analysis and reporting, as well as the UFED camera.