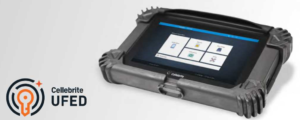 UFED Touch2 is a comprehensive, standalone mobile forensic extraction device that combines outstanding mobile device support with unrivaled data extraction technology. With its intuitive GUI and easy-to-use touch screen, the UFED Touch2 enables you to extract physical, file system, and logical evidence, including deleted data, from the widest range of mobile devices.
Since 2009 UFED Touch2 has been recognised by industry experts as a 'must have' tool, and has won the yearly Forensic Forecast Awards for the Best Forensic Hardware tool.
UFED Touch2 is available with either an Ultimate or Logical solution offering, and comes with a range of supporting applications for in-depth decoding, analysis and reporting.
Key features of the Logical solution:
Logical extraction of data.
Forensic cloning of SIM IDs to isolate phones from network activity during analysis.
Frequent software updates to ensure compatibility with new phones as they are introduced to the market.
Key features of the Ultimate solution:
Physical extraction and decoding while bypassing pattern lock / password / PIN from Android devices including Samsung Galaxy S family, LG, HTC, Motorola, and more.
Physical and file system extraction and decoding from Android devices.
Physical extraction from BlackBerry devices.
Exclusive decoding.
Widest support for extraction and decoding from Apple devices.
Physical extraction and decoding from locked Nokia BB5 devices.
Password extraction from selected devices.
Unrivalled access to locked devices by bypassing, revealing or disabling the user lock code.
Physical extraction and decoding from Windows phone devices.
File system extraction from any device running Windows Phone, HTC, Samsung, Huawei and ZTE.
Recover a greater amount of deleted data from unallocated space in the device's flash memory.
Decoding of JTAG physical extractions from a rich set of data.
TomTom trip-log decryption, and data extraction from other portable GPS devices.
Decrypt WhatsApp history databases.
Rich set of decoding.
Comprehensive analysis capabilities via UFED Physical Analyser including timeline, project analytics, malware detection, and watch list.
Easy-to-read report generator in a variety of formats using the UFED Physical Analyser.
Translate foreign-language content from your extractions using UFED Physical Analyser's offline translation solution.